The Hungry Guide: Taft Avenue, Manila Food and Restaurant Map
Home to three different schools: De La Salle University-Manila, College of St. Benilde, and St. Scholastica's College, the Taft Avenue neighborhood hosts an array of budget-friendly food choices targeted to students.
In this latest edition of The Hungry Guide series, we are featuring food nooks along and around Taft Avenue. Read on, froshies, and be briefed on the places you'll most likely hang out in the next three to four years.
Black and White Cafeteria
1941 Taft Avenue, Pasay City
Black and White Cafeteria offers a homey treat for those who had a long day in class. Their food is just like what your mom would prepare at home: simple but delicious meals that will get you through a jampacked school day. Their Extra Special Bacon Burger (P78) and their freshly brewed House Iced Tea (P35) make a perfect pair for those who want to munch on something that is filling yet inexpensive.
Burger and Bacon Extra Special Burger and House Iced Tea
Zark's Burger
2nd Level, Archer's Nook Bldg.
2464 Taft Ave. (fronting DLSU), Malate, Manila
A default eating place of the Archers, Zark's Burger is famous for their monster burgers that are priced at less than P200. When going to Zark's, make sure that your break is long enough to wait in line because this place is full almost everytime.
Bagnet 8065
Leon Guinto Street, Brgy. 727, Malate, Manila
In 8065 Bagnet, the deep fried, crunchy pork of Ilocos is star. This dim, easygoing, and free-spirited two-floor space could definitely pass as an art enthusiast's residence. The house specialty is of course, Bagnet, which comes in different varieties--Original, Kare-Kare, Sisig, Spicy Ginataan, Curry and Binagoongan. These all come with rice and free soup. Books and boardgames like chess are avaiable for customers on a long break.
Nemoto Japanese Restaurant
Senator Gil Puyat Avenue, Pasay
Nemoto has been in the same location for thirty years making it an institution of sorts in the Taft Neighborhood. This Japanese restaurant is frequented more by Japanese patrons than by Filipinos, and this tells a lot about its authenticity.
If you have budget to spare, get their Sushi Platter (P450) – a mix of california maki, tuna and salmon sushi and share it with a friend. This comes with a free fruit platter and a glass of hot or cold tea.
Sushi Platter
Fruit Platter
Crazy Katsu
G/F One Archers Place, Castro Street corner Taft Avenue
Craving Japanese but you don't have enough budget for Nemoto? Then go to Crazy Katsu. All katsu sets here are priced at less than P200.
Rap Steaks and Cakes
879 Dagonoy St., Malate, Manila
Rap Steaks and Cakes is yet another institution in the Taft Neighborhood. Almost every Lasallian has a memory or two of eating Rap's hefty steaks, drowing in signature bone marrow gravy (think: bulalo sauce). A first-timer? Get their Porterhouse Steak (240g at P195; 330g at P195) and prepare to fall in love.
Porterhouse Steak
Flaming Wings
Archer's Nook Dorm, 5624 Taft Avenue
Flaming Wings is famous for their signature fried chicken dipped in tangy buffalo wing sauce. Most students order their Hunger Buster meal (P125) complete with wings, rice, dip, and drinks, and then end their meals with Wicked Oreos (P75)-- three pieces of batter-fried Oreo cookies, served with vanilla ice cream.
Sinangag Express
877 Dagonoy St., Malate Manila, Metro Manila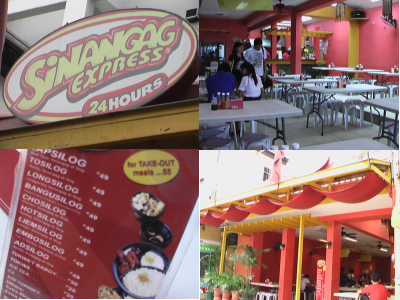 Dubbed as 'SEx' by most of its cheeky student patrons, Sinangag Express along Dagonoy Street is very popular for their cheap but filling -silog meals. Their Tapsilog, a sweet and oily chunk of shredded beef, is a bestseller here. All meals are priced at less than P100.
Chef's Noodle
University Mall, Taft Avenue
Where authentic Korean food is concerned, fans of the cuisine would tend to agree that the best food experiences are in obscure places wherein the atmosphere is nondescript and menus hardly have a word printed in English. Obscure, nondescript, and alien-- Chef's Noodle is not. But don't let this friendliness deter you from discovering Chef's Noodle's authentic Korean flavors.
Burger and Bacon Extra Special Burger and House Iced Tea
Located inside the University Mall along Taft Avenue, this fast-casual restaurant is a master franchise of the Chef's Noodle brand from South Korea. Mainly targeted to the Korean students enrolled in the nearby universities, Chef's Noodle offers a taste of Korea at budget-friendly prices.
Burger and Bacon Extra Special Burger and House Iced Tea
The main draw for the student lunch crowd are the budget meals: Kimchi Dupbap and Bibimbap-- each served with iced tea and Korean soup. Those who are willing to fork out a little more than a hundred pesos can try the restaurant's signature Chef's Noodle. One huge bowl is good enough for one very hungry diner or two light eaters. A serving is already very filling but you may request your soup to be refilled.
​Samgyupsalamat
Kapitan Tikong St., corner Leon Guinto Street
Samgyupsalamat is another authentic Korean restaurant within the neighborhood that specializes in grilled beef, served with assorted vegetables, and soup. They have an unlimited Samgyupsal promo (P390 Samgyupsal all you can) every weekends and holidays. Otherwise, a meal here would cost around P200.
MamaV Restaurant
Providence Tower
For long breaks, you may want to visit MamaV Restaurant in the Providence Tower, which is just a few steps away from Taft Avenue. It's the default videoke place of student barkadas. They have several air conditioned booths in various sizes, which can accommodate up to 10 people. Once you're in the booth, they will present you with a menu consisting of typical Filipino dishes (Caldereta, Sisig, Kare Kare, among others), pulutans, and drinks.
Stoops
1021(Vito Cruz) cor. Arellano St., Malate Manila
Price Range: 40 - 110 Pesos (not including Bagnet per kilo)
Operational hours: Mon-Sat, 10am – 10pm
Delivery: 484-7521

Hungry for a taste of Ilocano cuisine? Mangan ka dituyin! Stoops is the place for you. It's a small open eatery, not far from Taft Ave., along the corner of Arellano St. and P. Ocampo St. that has a limited but palatable menu of authentic Ilocano dishes. They even have student-friendly rice meals, all below P100.
When at Stoop's, try the region's famed Bagnet. You can purchase a humble solo-size bagnet meal with your choice of side dish for under P100. As if this isn't enough, you can also purchase bagnet per quarter, half or whole kilo, and choose between regular or spicy.
Ate Rica's Bacsilogan
Agno St. Malate Manila (Behind Taft Tower Hotel)

To those who might not know, bacsilog is bacon served with egg. It's certainly not an item found on most '-silog' menus. Here at Rica's, they serve it with rice and lovingly smothered with 'chiz' and knorr. Its flavor has been described as salty and kind of sweet. One student says "it's one of the best na babalik-balikan."
Aside from rice meals, they also serve sandwiches, burgers, and omelettes. There are plenty of great to-go meals for a busy student. On the menu you'll even find other interesting items like tapa and tocino omelettes or dory fishsilog, and even a hash brown burger.
Ate Rica's is in the part of DLSU that's open to the public. It's amongst stalls in a food court behind Taft Tower Hotel (formerly known as E.G.I. Tower) and Gokongwei Hall along Agno St.

BACSILOG and mango shake
Café de Seoul
Unit 12, 2nd Level, One Archer's Place
Taft Ave. corner Castro St. and Fidel Reyes St., Malate, Manila
A glance at the interiors alone gives you the idea that this is not just your typical Korean café. General Manager Jade Lee shares that everything in the café, from the furniture to the smallest tile, has been imported from Korea.
Here, you must try Café De Seoul's Rice Cake (P50), which is a modern take on the traditional Korean snack. This comes in ten different fruit flavours, including strawberry, blueberry and banana.
Their Seoul Bing-Soo a.k.a. the Korean halo-halo is a must-try and is perfect for the warm Manila weather. Café De Seoul's take on it boasts of red beans, rice cakes, gelato and sliced almonds, which, altogether, provide customers with a unique and refreshing chilled dessert that is highly effective for beating the heat.
Café Noriter
2nd Level, Reyes Bldg.
Taft Ave. corner Estrada St., Malate, Manila
Bright and vibrant, Cafe Noriter is one of the cutest hangout places in Taft. This unique ambience is what makes it extremely popular with the students around the area. The name 'Noriter' is a Korean word that means playground. The whole aesthetic of the cafe follows this theme and they redecorate annually.
Some of their best sellers include Noriter Halo Halo (P240 - Small, P430 - Big), Kiwi Smoothie (P130), Noriter Sandwich and Noriter Waffles. You may also want to try customer favorites like Honey Bread with Whipped Cream (P140) and pair it with their Java Chip Frappuccino (P120).
Honey Bread with whipped cream and Java Chip Frappuccino
Sophie's Mom
UPAD, 912 Pablo Ocampo St., Malate, Metro Manila
Sophie's Mom Cafe-- a dollhouse-y space along Santol St. that specializes in cupcakes, cookies and mochi ice cream, has branched out and opened a stall near Taft Avenue.
Their Red Velvet Cupcake (P60), which has chocolate chunks in it and then topped off by some sweet-sour cream cheese frosting, is one of the best, if not the best, in the metro. Other varieties of cupcake flavors include Dulce De Leche, Tres Leches with Fresh Mangoes and Cookie Dough, among others.
Did we miss your favorite Taft food nook? Let us know in the comments section your go-to lunch place when in the area!
---
ClickTheCity joined The Avida Food Hunt to sample the specialty cuisines and epicurean fares nearby Avida Prime Tower Taft. The tour is curated by Pinoy Eats World founder, Chef JJ Yulo. To participate, visit Avida Land's Facebook page (avidalandph) for more details on the next food hunt.
Additional images from Zark's Burgers official website, Samgyupsalamat Facebook Page, and Crazy Ka

tsu Facebook Page.